Aether & Hemera have been selected for creating an artwork to commemorate the end of World War One.
HOPE is a light and sound installation, inspired by the life experiences of the people of County Durham to commemorate their hope, humanity and resilience, even in the bleakest of times. More info here!
"The Colour of Phi", a specially commissioned artwork using electro-luminescent wire by the artists Aether and Hemera will be on show at the DLI/Durham Art Gallery until 2 May 2011.
"The Colour of Phi" is supported by arts Council of England North East and is showing alongside an exhibition marking the 10thanniversary of the death of artist/curator Nerys Johnson at the DLI Museum/Durham Art Gallery from 19 March until 2 May.
This week we exhibited the Mood Chair and the Heart-Bit lamp at 100% Design on the Design Event Stand in the 100% Futures section, from 23-26 September on Stand G100 at Earls Court. We exhibited along with other North East Designers, for instance behind our chair you can see the beautiful wallpaper of Kate Usher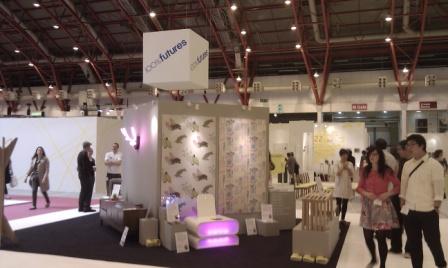 Enter a magical world of storytelling and discover work inspired by childhood memories, fictional stories and fairy tales. Through paintings, drawings, sculptures and collage, the gallery space will be transformed into an enchanted, playful and mysterious land; more info on Wolverhampton Art Gallery website.
Curator: Helen Oliver