Video interview of our collaboration with Justice & Peace
posted on 29/09/2023 11:04:21 by Hemera
At Aether & Hemera, we've collaborated with Justice & Peace during The Hague Highlights festival. Together, we explored the concept of safe haven through art and spoken word. Here is the lovely video interview!
Aether & Hemera light artwork @ Gothenburg Festival
posted on 30/11/2020 19:07:02 by Hemera
Gothenburg is hosting nine spectacular light artworks. Together they form a light art walk from the Garden Association to the Cathedral. From November 29, 2020 and are lit until January 10, 2021.
More details and a map HERE
Visualizza questo post su Instagram
Voyage @ Bedgebury National Pinetum and Forest
posted on 03/12/2019 15:45:43 by Hemera
The gardens - home to 12,000 trees and the National Conifer Collection - have been decked out once more into a magical after-dark lights and sounds trail, including our installation Voyage.
Christmas at Bedgebury officially opens to the public on Friday, November 22 and runs on selected dates to Monday, December 30.
Happy Diwali with Voyage
posted on 08/11/2018 22:37:48 by Hemera
Our flotilla of origami boats has travelled to Dubai to celebrate Diwali on Burj Lake. On display until the end of November, Voyage forms part of the Emaar Art initiative, which aims to bring art to the wider community.
Durham WW1 Commemoration
posted on 03/10/2018 16:38:30 by Hemera
Aether & Hemera have been selected for creating an artwork to commemorate the end of World War One.
HOPE is a light and sound installation, inspired by the life experiences of the people of County Durham to commemorate their hope, humanity and resilience, even in the bleakest of times. More info here!
Voyage WINNER: 20 Greatest Raspberry Pi Projects ever made
posted on 29/09/2016 10:36:52 by Hemera
We are so trilled that our artwork Voyage is a winner in the official Raspberry Pi magazine's 50th issue celebration feature voted by the Raspberry Pi community.
enjoy these 50
amazing Raspberry Pi projects!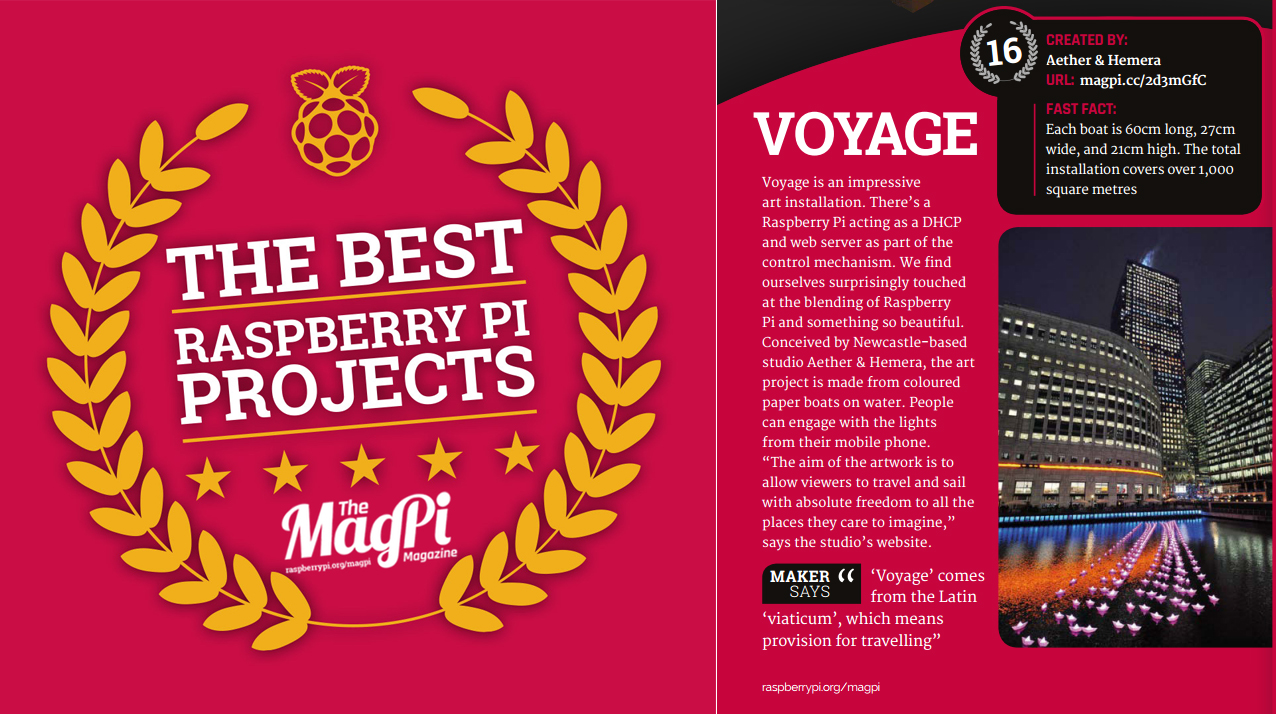 Voyage, a journey into imagination
posted on 19/12/2012 13:15:12 by Hemera
Interactive Installation at Canary Wharf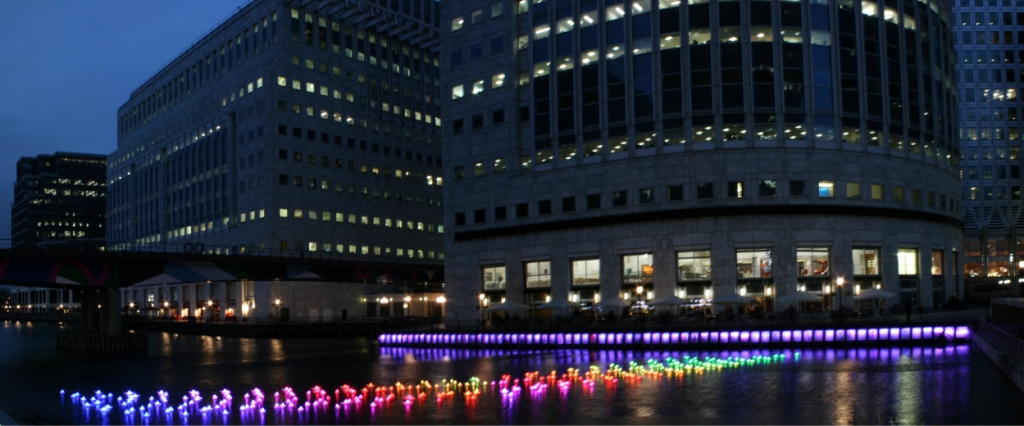 The etymon of the word 'voyage' comes from Latin viāticum, which means 'provision for travelling'; the inspiration of this artwork is to allow people to travel and sail with absolute freedom to all the places we care to imagine. Paper boats bring us in voyages through childhood memories, wishes and imaginings. Paper boats' on the water invite everyone to make a transition from reality to imagination, reliving childhood memories and embracing our freedom. Creating an unexpected and unusual addition to the landscape, Voyage inspires the viewers to think creatively about the spaces around them; the dynamic coloured light scenarios of the artwork invite the viewer to make a smooth transition between reality and daydream.