Premiering in 2016, Light City Baltimore is the first large-scale, international light festival in the United States. Light City will provide a backdrop for the celebration of ideas, ingenuity and creativity through art, music and innovation.
Light City will shine a light on Baltimore's abundance of creative, cutting-edge, multi-disciplinary talent, and at Aether & Hemera we are delighted that our installation Voyage has been selected for the festival.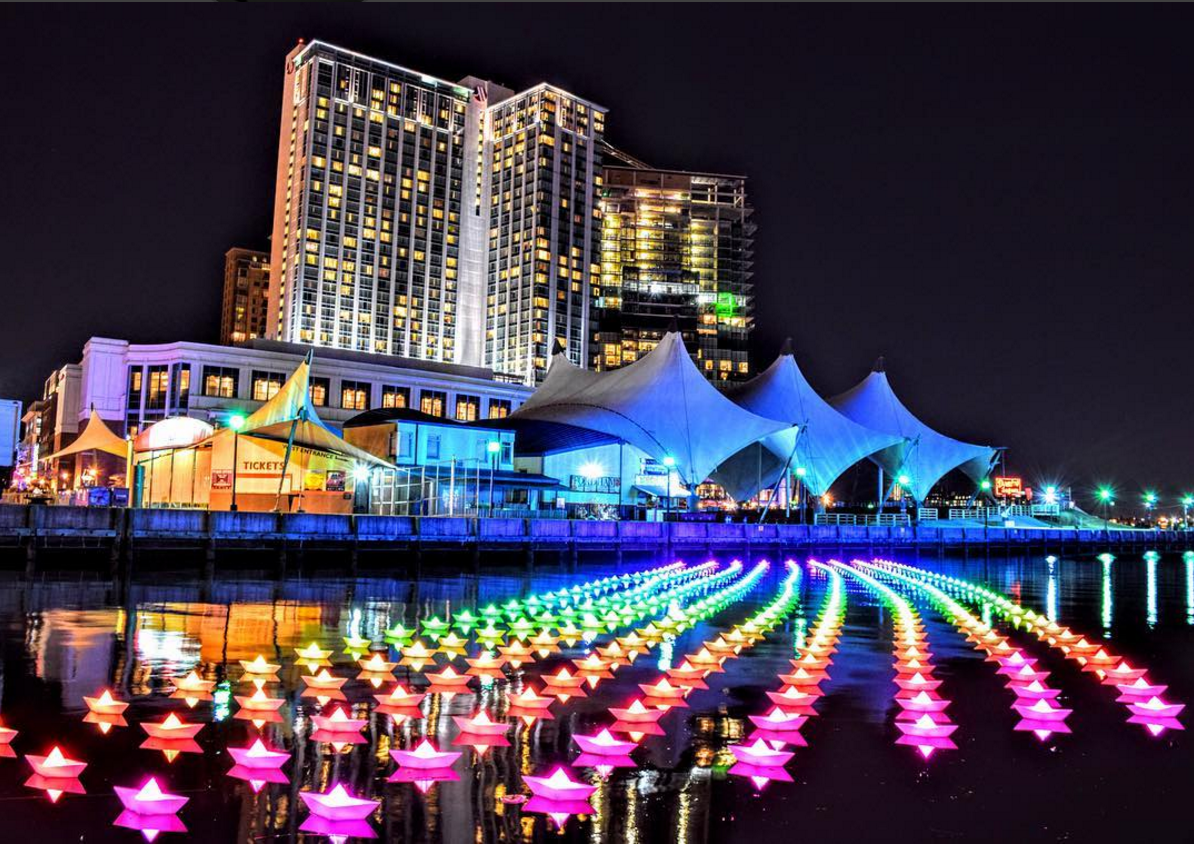 Light City's innovation programming will generate an ecosystem of ideas and learning during the day – while lights, performances and live music reimagine the Inner Harbor at night.
The BGE Light Art Walk features 28 lighted art installations on the Inner Harbor Promenade, floating in the harbor waters and projected on area buildings including our artwork Voyage, a rainbow colored flotilla of lighted "paper" boats in the harbor.
Here's a list of what you can see and hear at Light City. And check out this video that showcases some of those involved with the festival.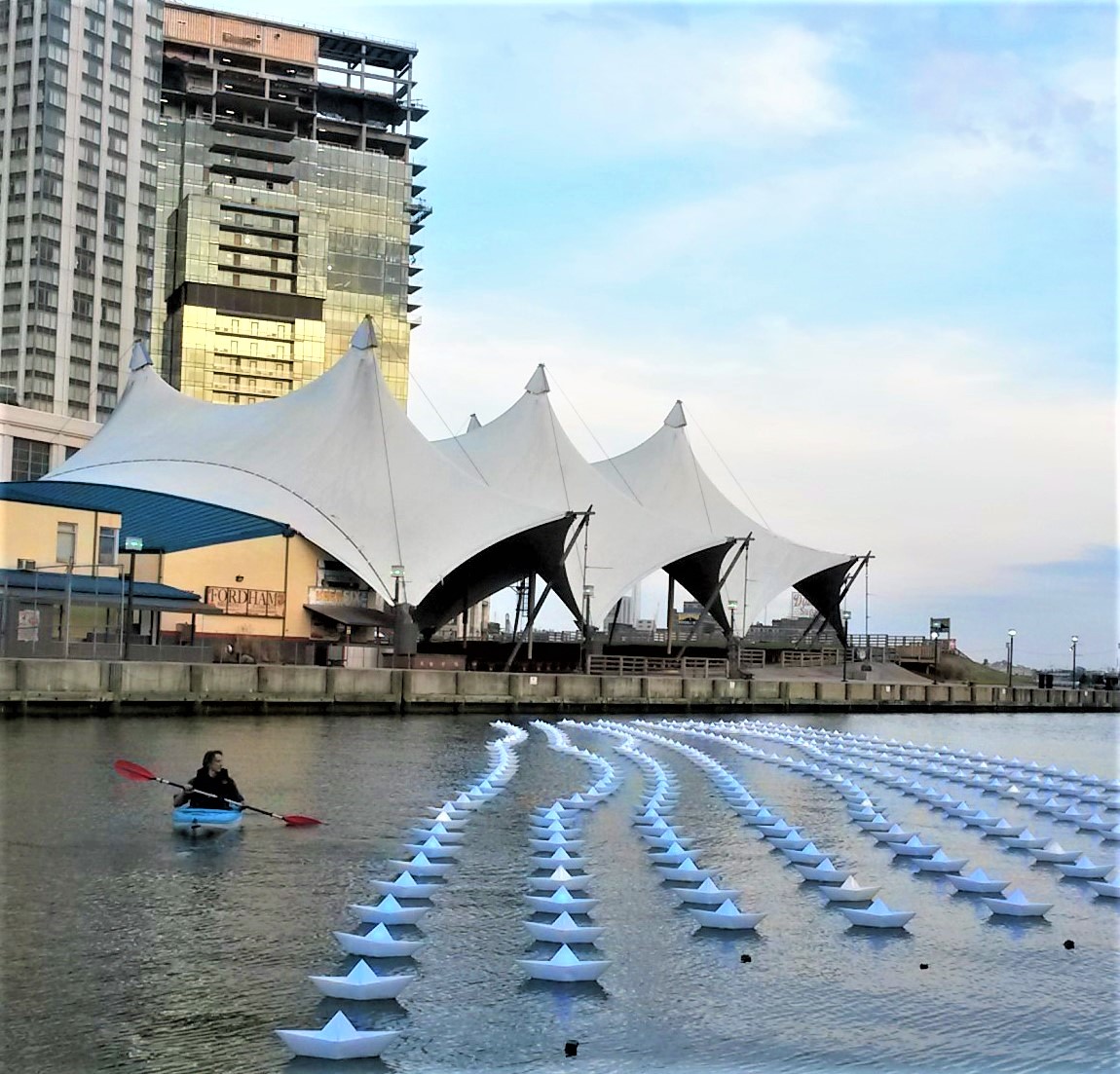 LIGHT CITY MUSIC
Baltimore Rock Opera Society and Concert Artists of Baltimore, Classical Music & Rock Opera
Clear For Takeoff, Pop Rock
Dunson, Hip-Hop
Makina Project, Electronic
Red Sammy, Rock
Symphony Number One, Classical
Telesma, World
The Bridge Ensemble, Contemporary Choral Music
The MC Booze Band, R&B
The Palovations, Motown/R&B
To The Moon, Instrumental Rock
Todd Marcus Jazz Orchestra, Jazz
Wordsmith, Hip Hop
LIGHT CITY PERFORMANCES
Atelier Mateo M - Digital Skin Portraits
Fluid Movement - HydroPrismEcho
Jenn Figg, Matthew McCormack and David Fakunle – Making Waves: Kinetic Frenetic – Percussion Project
Katherine Fahey & Annie Howe – Crankie Box Shadow Puppets
Lynne Tomlinson and Colette Searls – Kendra's Bay Digital Images
Michael Owen – Diorama – Interactive Dance
Nina Rutledge – City Lights Stilts
Olu Butterfly and the Dew More Collective – What was in Darkness Must be Revealed in Light – Multi-media Poetry
Revolutionary Motion, Pyrophilia and Luminescent Street Brigade – Theatre of Fire
Sarah Tooley – 901 Arts Drumline
Schroeder Cherry – Baltimore Street Lights Puppet Show
Single Carrot Theatre – Ballet Ballistique
LIGHT CITY VISUAL ARTISTS
Radiance, Pixel Promenade
Kelley Bell & Corrie Parks, Projected Aquaculture
Baltimore Kawasaki Sister City Committee(Artist: Jessica Searfino), Take To-Ro Ripples
Ian Brill, Labrynith
Cheon Kroiz, Artist and Architect Collaborative, Diamonds
Eric Corriel, Water Will Be Here
Lisa Dillin, Natural Lighting Emulator V
Annette Elliot, Constellation
Symmes Gardner, 1,001 Lux
Rachel Guardiola, Into the Zone (Anthology of Accounts and Findings)
Riki Kim, Glacier
Jen Lewin Studio, The Pool
Dashboard, Drone Laser Light Party
Luminous Intervention, TBD
McWharter Lynam, fluorWall
Nick Metzler, TBD
Tim Scofield & Kyle Miller, Peacock
Quentin Mosley, Gateway Baltimore
Design Collective, Inc., Lightwave: Baltimore's Beacon
Thick Air Studios, Dear Baltimore
Scott Pennington, Plaza
Paul Rucker, Walking in the Light of a History
New American Public Art, Blue Hour
Robby Rackleff, TBD
Brian Gonzalez and Nisha Ramnath, Laser Lotus
Aether & Hemera, Voyage
Greg St. Pierre, TBD
Justin Thompson, Dark was the Night
Yandell Walton, Human Effect