It is great to see Aether & Hemera's installation featured in SuperLux: Smart Light Art, Design and Architecture for Cities - edited by writer Davina Jackson, designed by Deuce and published internationally by Thames & Hudson. The book will be launched in September 2015.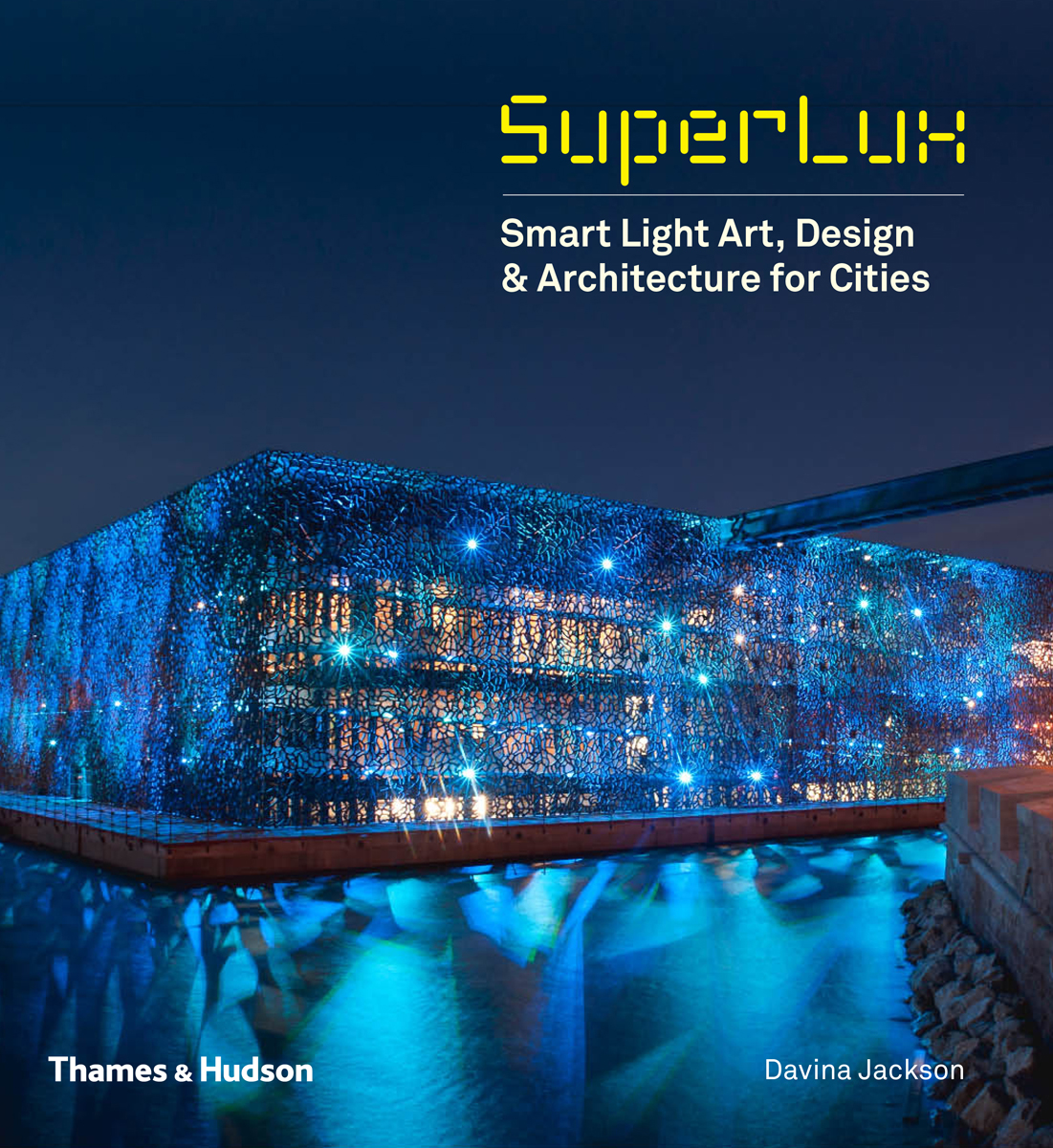 ISBN 9780500343043, 272 pages.
More than 100 teams of artists, designers and architects and more than 160 lightworks are shown in the SuperLux book; many also in the SuperLux exhibition displayed at Sydney's Customs House during September-October 2015. Some of these talents also showed works at one or more of the original Smart Light festivals in Sydney (2009) and Singapore (Marina Bay 2010, 2012).
Here are the artists presented in the book, using the names by which they are best known:
Abin Design Studio
Aether & Hemera
AF Lighting (including Ljusarkitektur)
Ars Electronica (Future Lab)
Arup (Lighting)
ARM Architecture
Atelier H. Audibert (Hervé Audibert)
Atmos Studio (Alex Haw)
Michael Batz
Benoy Associates
Philip Beesley
BIBI (Fabrice Cahoreau)
b720 Fermin Vasquez Arquitectos
Michael Bielicky (with Kamilla B. Richter and ZKM students)
Bálint Bolygó
BOPBAA
Ingo Bracke
Caitlind RC Brown, Wayne Garrett
Buchan Group
Chris Burden
Casa Magica (Friedrich Förster, Sabine Weissinger)
Edwin Cheong
Miguel Chevalier
Jeongmoon Choi
Angela Chong
CL3
CMA Lighting Design (Ta-Wei Lin)
Co-op Himmelb[l]au
Waltraut Cooper
Clouston Associates
Bill Culbert
Daglicht & Vorm (Rudolf Teunissen, Marinus van der Voorden)
Andrew Daly and Katharine Fife
Vicki DaSilva
Diller Scofidio and Renfro
Martina Eberle
Janet Echelman
The Electric Canvas
Electrolight
Brian Eno/Lumen London
Cornelia Erdmann
Titia Ex
Richi Ferrero (Gran Teatro Urbino)
Studio Fink (Peter Fink)
Fisher Marantz Stone & Partners
Virginia Folkestad
Forlights (Yutaka Inaba)
Paul Friedlander
Philipp Geist
Reinhardt Germer (formerly Meinhardt Light Art Studio)
Groupe LAPS (Thomas Veyssiere)
Ian de Gruchy
Sophie Guyot
Matthias Hank Haeussler
Jakob Kvist Hansen (with Andreas Groth Clausen and others)
Dev Harlan
Hartung Trenz (Detlef Hartung, Georg Trenz)
Daniel Hausig
Ali Heshmati, Lars Meess Olsohn
Norimichi Hirakawa
Diane Huntress
Michael Lee Hong Hwee
Inaba (Jeffrey Inaba)
Yann Kersalé (AIK)
Manfred Kielnhofer
KORO Public Art
Mischa Kuball
Mary-Anne Kyriakou
Warren Langley
William Latham
LAVA (Chris Bosse)
L.E.A.D
LED ARTIST (Teddy Lo)
Justin Lee
Simon Lee
Götz Lemberg
Lend Lease
Jen Lewin
Lighting Design Collective (Tapio Rosenius)
L'Observatoire International (XXXXX)
Rafael Lozano-Hemmer (Antimodular)
Luz Interruptus
Laith McGregor
McDermott Baxter (Ruth McDermott, Ben Baxter)
Francesco Mariotti
Meinhardt (Light Art Studio)
Seiko Mikami
Moment Factory
MRA International
Geert Mul
Christoph Niederberger
Nosu Architects
Jean Nouvel
Ocubo (Nuno Maya, Carole Purnelle)
Office Architecture Barcelona (OAB)
Stephen Orlando
Parque de la Reserva
Jason Peters
Pascal Petitjean (Airstar)
PTW Architects
Ramus Illumination (Bruce Ramus)
Random International
Erwin Redl
RMJM
Rudy Ricciotti Architect
Daan Roosegaarde (Studio Roosegaarde)
Sardi Design
Jens Schader
Ursula Scherrer
Susanne Seitinger
Kate Shaw
Skidmore Owings and Merrill
Joe Snell
Speirs and Major
Spinifex Group
Storybox (Rob Appierdo)
Aleksandra Stratimirovic
Studio-29 (Tony Rimmer)
Studio ix (Guinter Parschaik)
Sun Yu-li
Aamer Tahmer
Laurens Tan
Technical Distribution Company
Kurt-Laurenz Theinert (Visual Piano, Hammerhaus)
TILT
UNSTABLE (Marcos Zotes and others)
Fiona Venn (formerly of Meinhardt Light Studio)
Yandell Walton
Guan Wei
WY-TO Architects (Yann Follain, Pauline Gaudry)
ZKM