Aether & Hemera @VIVID Sydney
on 14/04/2013 16:27:33 by Hemera
We are very excited that our Light and Sound Installation has been selected to be part of Vivid Festival of Arts in Sydney this year. June 2013 will be an exciting time for Sydney, as the International Symposium on Electronic Art (ISEA 2013) will run from the 7th to 16th, as well as the International Conference on Creativity and Cognition from the 17th to the 20th of June 2013 and the International Conference on Computational Creativity has been announced for the dates 12-14 June, 2013. It will be a very inspiring time for us!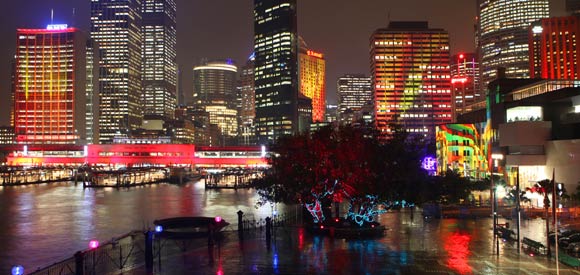 The Vivid footprint extends this year to include the Sydney Opera House, Circular Quay, The Rocks and Walsh Bay. More info on: http://www.vividsydney.com/
ArtsIt 2013 @ Hangar Bicocca, Milan
on 06/02/2013 22:45:29 by Hemera
Aether and Hemera @ Kinetica Art Fair 2013, London
on 14/01/2013 19:52:09 by Hemera
Aesthetica Art Prize
on 22/12/2012 01:16:16 by Hemera
Voyage, a journey into imagination
on 19/12/2012 13:15:12 by Hemera
Shimmer Digital Arts Festival in Whitley Bay
on 31/10/2012 14:24:53 by Hemera
Illuminating Contemporary Dance
on 09/10/2012 19:02:38 by Hemera
Database of climate-change-related artwork
on 13/09/2012 12:53:25 by Hemera
Growing Forest @ Blinc Digital Arts Festival 2012, Wales
on 21/08/2012 16:31:13 by Hemera
Culture Cloud Exhibition
on 18/07/2012 23:22:40 by Hemera
Common Cathode Led
on 14/07/2012 19:56:38 by Aether
Artificial Intelligence to create an Interactive Art Installation
on 19/06/2012 14:17:47 by Hemera
CULTURE CLOUD
on 06/06/2012 19:50:36 by Hemera
Derby Tunnel Vision
on 31/05/2012 17:00:49 by Hemera
Joining forces with Peugeot
on 01/04/2012 16:39:22 by Aether
TippingPoint
on 08/03/2012 16:33:58 by Hemera
Durham Brass Festival 2012
on 15/02/2012 16:38:40 by Hemera
Being Open
on 05/01/2012 17:52:50 by Aether
Two Tunnels Greenway - Bath
on 21/12/2011 19:55:34 by Hemera
Bert Williams Leisure Centre
on 21/12/2011 19:26:44 by Hemera
Lighting Clock and Blogs
on 21/11/2011 11:56:58 by Hemera
My Place in the World
on 26/03/2011 16:27:00 by Hemera
The Colour of Phi
on 16/03/2011 14:48:03 by Hemera
The colour of Phi
on 02/03/2011 12:50:49 by Hemera
Joseph Swan's light bulb legacy
on 27/01/2011 22:56:44 by Hemera
Arduino multi purpose server
on 13/12/2010 01:37:56 by Aether
Christmas Present exhibition at Shipley Art Gallery
on 12/12/2010 20:31:57 by Hemera
The Shed @ The Shipley Lates
on 12/12/2010 20:05:06 by Hemera
Growing Forest at the Shed
on 24/10/2010 18:52:30 by Hemera
100% Design London
on 24/10/2010 18:38:17 by Hemera
Thanks for all your contributions!
on 08/10/2010 11:15:26 by Hemera
Workshop: Algorithmic interaction for everyone
on 20/09/2010 12:21:06 by Hemera
Growing Forest
on 20/09/2010 11:33:34 by Hemera
ARTISTS JOIN CAMPAIGN AGAINST FUNDING CUTS
on 11/09/2010 13:04:24 by Hemera
Blyth and Bedlington get arty
on 21/06/2010 13:50:49 by Hemera
Stories at Wolverhampton Art Gallery
on 29/05/2010 18:04:36 by Hemera
The tricycle feedback routes
on 17/05/2010 22:08:03 by Hemera
The Late Show
on 17/05/2010 18:36:36 by Hemera
Audio Video Interaction
on 15/05/2010 19:47:36 by Hemera
Art Strategy for two new cycle routes
on 02/05/2010 17:17:12 by Hemera