Aether & Hemera @ Croydon Heritage Festival
posted on 09/06/2017 18:56:25 by Hemera
Arts & Maths
posted on 12/04/2017 16:45:58 by Hemera
Aether & Hemera @ LUTN Light Lab
posted on 24/03/2017 12:22:08 by Hemera
Aether & Hemera @ Enlighten Canberra
posted on 16/02/2017 15:08:11 by Hemera
Aether & Hemera @ e-Luminate Cambridge Festival
posted on 09/02/2017 09:59:05 by Hemera
Aether & Hemera @GeorgetownGLOW 2016
posted on 21/11/2016 19:03:26 by Hemera
Aether & Hemera @ Amsterdam Light Festival 2016-17
posted on 07/11/2016 13:42:41 by Hemera
Aether & Hemera @Illumination, Scotland
posted on 07/11/2016 13:35:04 by Hemera
Aether & Hemera @ Lightwaves2016, Salford Quays
posted on 05/11/2016 23:33:41 by Hemera
Voyage WINNER: 20 Greatest Raspberry Pi Projects ever made
posted on 29/09/2016 10:36:52 by Hemera
Aether & Hemera @ The Gymnasium Gallery
posted on 07/07/2016 17:43:34 by Hemera
Aether & Hemera @ Henley Festival 2016
posted on 08/06/2016 15:46:23 by Hemera
Aether & Hemera @ Central Art Gallery
posted on 28/04/2016 10:17:41 by Hemera
Aether & Hemera @ Canary Wharf Winter Light Fest 2016
posted on 06/01/2016 16:07:30 by Hemera
Aether & Hemera @ Baltimore Light City 2016
posted on 12/11/2015 18:50:00 by Hemera
Aether & Hemera @ Enchanted Park 2015
posted on 29/10/2015 12:53:07 by Hemera
Voyage featured in SuperLux - Thames & Hudson
posted on 31/08/2015 19:55:26 by Hemera
Our Facebook Page
posted on 05/08/2015 16:43:17 by Hemera
Aether & Hemera has been awarded 'Generation' commission
posted on 17/03/2015 14:41:26 by Hemera
Aether & Hemera @4bid Gallery, Amsterdam
posted on 13/12/2014 20:34:27 by Hemera
On the Wings of Freedom @ Wertheimpark, Amsterdam
posted on 03/12/2014 13:41:26 by Hemera
Aether & Hemera @ Enlighten 2015
posted on 01/12/2014 14:17:18 by Hemera
Aether & Hemera @ Amsterdam Light Festival
posted on 02/10/2014 10:15:36 by Hemera
Sex work, liminality corporeality and light
posted on 18/09/2014 13:52:41 by Hemera
Aether & Hemera@ the Sonoran Desert
posted on 08/08/2014 17:58:29 by Hemera
Aether & Hemera Portfolio on ISSUU
posted on 24/07/2014 11:51:21 by Hemera
Aether & Hemera@Nomadic Salon Symposium
posted on 19/06/2014 13:58:11 by Hemera
Voyage@Noche Blanca
posted on 19/05/2014 11:57:28 by Hemera
Aether & Hemera join the scheme 'Northumbria Graduates into Business'
posted on 26/03/2014 12:16:46 by Hemera
IALD Design Palooza Presents Aether & Hemera
posted on 27/01/2014 15:16:54 by Hemera
Canal Convergence | Water + Art + Light
posted on 28/09/2013 00:48:10 by Hemera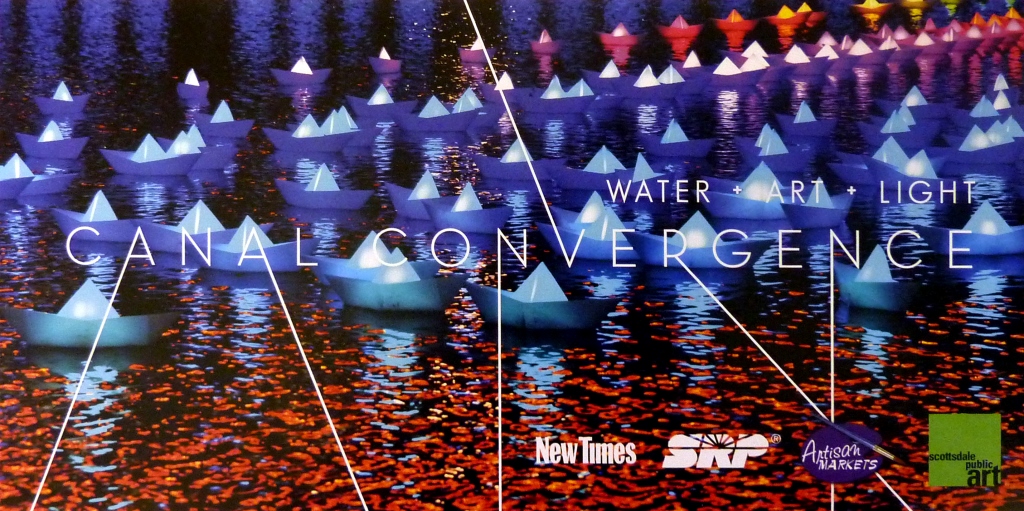 Aether & Hemera's installation Voyage 'is sailing' to Arizona for taking part to the inspiring Canal Convergence event which animates the Scottsdale Waterfront from early November.
We share the same motto with Scottsdale Public Art : Live the art. Love the place.
The mission of Scottsdale Public Art is to serve as a leader in defining art in the public realm through creative place-making, signature cultural events, exhibitions, and installations contributing to the community's creative, cultural, and economic vitality.
At Aether & Hemera, we are interested in Xdesign for contemporary city , focusing not only on the traditional 'hard' infrastructures of buildings and engineering, but also the 'softer' infrastructures of social networks and human interactions.
Fluidity@Northern Design Festival 2013
posted on 30/07/2013 21:35:59 by Hemera
Aether & Hemera @ ICCC Sydney
posted on 28/05/2013 12:05:32 by Hemera
Aether & Hemera @VIVID Sydney
posted on 14/04/2013 16:27:33 by Hemera
ArtsIt 2013 @ Hangar Bicocca, Milan
posted on 06/02/2013 22:45:29 by Hemera
Aether and Hemera @ Kinetica Art Fair 2013, London
posted on 14/01/2013 19:52:09 by Hemera
100 Contemporary Artists @ Aesthetica Anthology 2013
posted on 22/12/2012 01:16:16 by Hemera
Voyage, a journey into imagination
posted on 19/12/2012 13:15:12 by Hemera
Shimmer Digital Arts Festival in Whitley Bay
posted on 31/10/2012 14:24:53 by Hemera
Illuminating Contemporary Dance
posted on 09/10/2012 19:02:38 by Hemera
Database of climate-change-related artwork
posted on 13/09/2012 12:53:25 by Hemera
Growing Forest @ Blinc Digital Arts Festival 2012, Wales
posted on 21/08/2012 16:31:13 by Hemera
Culture Cloud Exhibition
posted on 18/07/2012 23:22:40 by Hemera
Common Cathode Led
posted on 14/07/2012 19:56:38 by Aether
Artificial Intelligence to create an Interactive Art Installation
posted on 19/06/2012 14:17:47 by Hemera
CULTURE CLOUD
posted on 06/06/2012 19:50:36 by Hemera
Derby Tunnel Vision
posted on 31/05/2012 17:00:49 by Hemera
Joining forces with Peugeot
posted on 01/04/2012 16:39:22 by Aether
TippingPoint
posted on 08/03/2012 16:33:58 by Hemera
Durham Brass Festival 2012
posted on 15/02/2012 16:38:40 by Hemera
Being Open
posted on 05/01/2012 17:52:50 by Aether
Two Tunnels Greenway - Bath
posted on 21/12/2011 19:55:34 by Hemera
Bert Williams Leisure Centre
posted on 21/12/2011 19:26:44 by Hemera
My Place in the World
posted on 26/03/2011 16:27:00 by Hemera
The Colour of Phi
posted on 16/03/2011 14:48:03 by Hemera
The colour of Phi
posted on 02/03/2011 12:50:49 by Hemera
Joseph Swan's light bulb legacy
posted on 27/01/2011 22:56:44 by Hemera
Arduino multi purpose server
posted on 13/12/2010 01:37:56 by Aether
Christmas Present Design Exhibition @Shipley Art Gallery
posted on 12/12/2010 20:31:57 by Hemera
The Shed @ The Shipley Lates
posted on 12/12/2010 20:05:06 by Hemera
Growing Forest at the Shed
posted on 24/10/2010 18:52:30 by Hemera
100% Design London
posted on 24/10/2010 18:38:17 by Hemera
Thanks for all your contributions!
posted on 08/10/2010 11:15:26 by Hemera
Workshop: Algorithmic interaction for everyone
posted on 20/09/2010 12:21:06 by Hemera
Growing Forest
posted on 20/09/2010 11:33:34 by Hemera
ARTISTS JOIN CAMPAIGN AGAINST FUNDING CUTS
posted on 11/09/2010 13:04:24 by Hemera
Blyth and Bedlington get arty
posted on 21/06/2010 13:50:49 by Hemera
Stories at Wolverhampton Art Gallery
posted on 29/05/2010 18:04:36 by Hemera
The tricycle feedback routes
posted on 17/05/2010 22:08:03 by Hemera
The Late Show
posted on 17/05/2010 18:36:36 by Hemera
Audio Video Interaction
posted on 15/05/2010 19:47:36 by Hemera
Art Strategy for two new cycle routes - Connect2
posted on 02/05/2010 17:17:12 by Hemera