Aether & Hemera @GeorgetownGLOW 2016
posted on 21/11/2016 19:03:26 by Hemera
Aether & Hemera are among the artists selected for the Georgetown BID's third annual outdoor public light art exhibition,
Eight local, regional, and international artists will show commissioned light-art works juxtaposed against the backdrop of Georgetown's historic environs during the third annual Georgetown GLOW exhibition in DC. In its third year, GLOW will be a month-long exhibition from Friday, December 2 – Sunday, January 1 with works lit nightly from 6-10 p.m. Georgetown GLOW is a signature winter event celebrating the holiday season and organized by the Georgetown Business Improvement District (BID).
Visit Georgetown GLOW for announcements and updates, and watch the preview video.
Aether & Hemera @ Amsterdam Light Festival 2016-17
posted on 07/11/2016 13:42:41 by Hemera
From December 1, 2016 to January 22, 2017, the fifth edition of Amsterdam Light Festival. More than 35 works of art and installations by international artists, designers and architects illuminate the center of Amsterdam. The works are along a route, the Watercolors and a hiking trail, the Illuminade placed. Learn about the different art routes,
To see Aether & Hemera making process of their new installation 'Flower Strip', keep an eye on this link!
Aether & Hemera @Illumination, Scotland
posted on 07/11/2016 13:35:04 by Hemera
The sky will light up with fireworks and Irvine's sleepy, historic waterfront will shimmer into life this St Andrew's Day as we celebrate the start of our four night art and light spectacular, illumination: Harbour Festival of Light.
Aether & Hemera @ Lightwaves2016, Salford Quays
posted on 05/11/2016 23:33:41 by Hemera
The UK's biggest digital light festival This season, Quays Culture will host the UK's biggest digital light festival, at Salford Quays and MediaCityUK. The annual festival, Lightwaves 2016 will run from Friday 9 December until Sunday 18 December and will feature a collection of outdoor light exhibitions. #Lightwaves2016.
Voyage WINNER: 20 Greatest Raspberry Pi Projects ever made
posted on 29/09/2016 10:36:52 by Hemera
We are so trilled that our artwork Voyage is a winner in the official Raspberry Pi magazine's 50th issue celebration feature voted by the Raspberry Pi community.
enjoy these 50
amazing Raspberry Pi projects!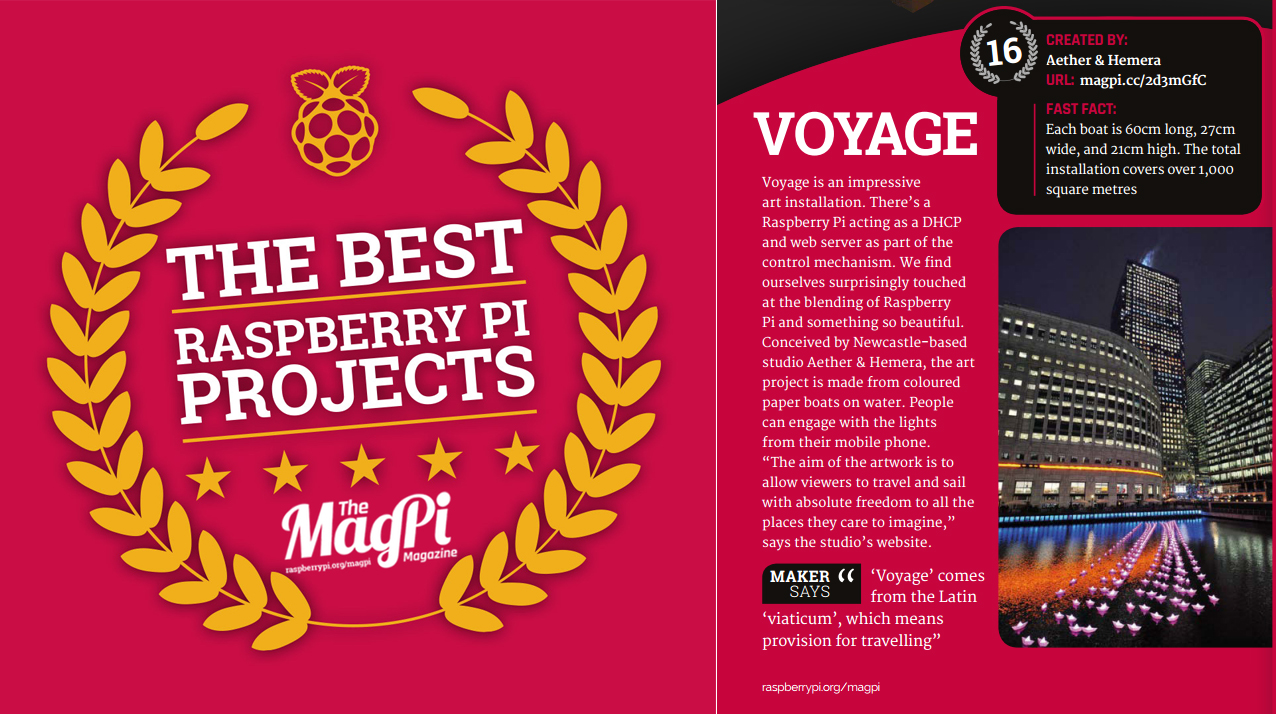 Aether & Hemera @ The Gymnasium Gallery
posted on 07/07/2016 17:43:34 by Hemera
Saturday the 9th of July, Aether & Hemera's Generation Touring Exhibition for Berwick Visual Arts will open @The Gymnasium Gallery. The exhibition will last till the 11th of September and you can check all the details here and a short film about the exhibition here
Aether & Hemera @ Henley Festival 2016
posted on 08/06/2016 15:46:23 by Hemera
The UK's most glamorous boutique festival, returns to its stunning setting along the river in Henley-on-Thames from 6 - 10 July 2016. Aether & Hemera are among the artists lined up; you can download the full program here
Aether & Hemera @ Central Art Gallery
posted on 28/04/2016 10:17:41 by Hemera
As part of the 'Generation Project', Aether & Hemera's touring exhibition will open at the Central Art Gallery in Ashton-under-Lyne on Sat 30th April. The installations combine the power of art, technology and nature to create a magical, memorable experience for all ages to enjoy.
Aether & Hemera @ Canary Wharf Winter Light Fest 2016
posted on 06/01/2016 16:07:30 by Hemera
We are delighted that Aether & Hemera has been selected to be part of Canary Wharf Winter Light Fest 2016 in London.
More details are available here and the event's programme can be downloaded here.